Note:   Thanks to Sami Joseph in the UK for circulating the findings of this poll.  Christian Zionists are "losing influence".    Peace, Roy
 

Pew Poll Shows Evangelical Christian Zionist's Rapture Quest Failing

Charles E. Carlson Jul 11, 2011

  

A recent Global Survey of Evangelical Protestant Leaders, taken by the Pew Forum for Religious and Public Life, reveals cracks in the structure of Evangelicalism, best described as Judeo-Christianity, welcome news for all those who labor for world peace and financial stability. (1)

The report states that "U.S. evangelical leaders are especially downbeat about the prospects for evangelical Christianity in their society; 82% say evangelicals are losing influence in the United States today, while only 17% think evangelicals are gaining influence." In the global north 66% say evangelical Christianity is having decreased influence on life, and 31% think it is increasing. More than half of U.S. leaders (53%) see the current state of evangelical Christianity in America as worse than it was five years ago. And as U.S. leaders look a few years ahead, about half (48%) expect the state of Evangelical Christianity to worsen.

The survey reveals that not all "evangelicals" are Christian Zionists and The Pew Forum has learned how to tell the difference. The Evangelical boat is leaking much worse in America and Europe than in the southern hemisphere, where missionaries are far more optimistic about the future of Evangelicalism in their countries. Perhaps this is because mission workers in the field are more attuned to work and service and less preoccupied with social pursuits and monetary success.

As I interpret this poll, significant weakening of Evangelicalism can be traced to a preoccupation with Israel that is anything but scriptural. The poll asked two related and telling questions: "Does God's covenant with the Jewish people continue today?" And, "Is the state of Israel the fulfillment of Biblical Prophesy?" The latter is a question we believe should be asked of every "Christian," including our own pastors, parents, and children.

The poll results state that 73% of those polled think "God's covenant with the Jewish people" continues today, and only 22% say it does not. It should be noted here that this is a Judeo-Christian give-away, since it is based on a false premise. The Pew Forum and all Evangelicals need to understand that there never was an Old Testament covenant with "the Jewish people." Most Evangelicals, radical or moderate, fail to properly distinguish the ancient tribe of Israelites from the Jews of today, and in particular, the Jewish inhabitants of the modern secular Jewish state of Israel. This error is the result of scriptural distortion that is encouraged by the State of Israel and its lobbies in the USA, and by the Israel-friendly press.

The Pew Poll, to its credit, did ask the decisive litmus test question, "Is the state of Israel the fulfillment of Biblical Prophesy?" Though the high number of "yes" replies was expected, the fact that 42% said "no" was a surprise and strongly suggests that at least 42% of Evangelicals polled are not Christian Zionists as defined by We Hold These Truths. This is a hopeful sign that Evangelicals are waking up, especially those outside of the U.S.! Perhaps it reflects the growing revulsion for the brutal acts carried out by Israel against its neighbors.

Those who say "yes" to either of the above two questions must throw out many of Jesus' own words. Jesus and His Apostles state again and again that God's covenant with the Israelites (mistranslated as "Jews" beginning in the Middle Ages) was fulfilled in the coming of the Christ.

When asked to declare sympathy toward either Israelis or Palestinians, most evangelicals stated they were neutral, but among the minority who took sides, about three out of four sympathized with Israel, reflecting the feelings of the more radical Christian Zionists. Nevertheless it's good news that they are no longer in the majority.

The most obvious reason why radical Evangelicalism must fail is that too many spokesmen deny the New Testament in their misguided effort to honor Israel. The notion that the Israelis are persecuted by the Philistines is unique to Judeo-Christians. Too many Evangelicals have been sold the idea that war is necessary and is worth its cost in human life.

(1) Global Survey of Evangelical Protestant Leaders, Cape Town, South Africa.

pewforum.org…

 
Note:   Glenn Beck of FOX News fame claims that "evil must be confronted", that "God will do the rest".  He further claims that the Palestinian-Israeli conflict "is about the destruction of Israel and about the end of the Western way of life".  He claims that the US media is anti-Israel and that Zionism is under attack.  Beck will be a sensation as Keynote Speaker at the 

Christians United for Israel – 2011 Washington Summit

 which is scheduled for July 18-20.  And he's planning an extravaganza in Jerusalem for August.  More about that later.   Peace, Roy 
Glenn Beck a star among right wing in Israeli Parliament
By Izzy Lemberg, CNN
July 11, 2011 9:13 p.m. EDT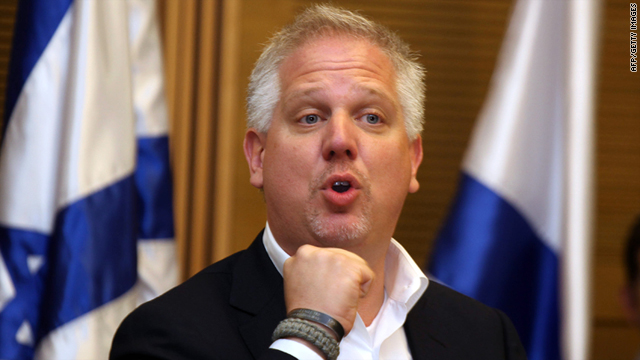 Conservative American pundit Glenn Beck gestures as he speaks to Israeli members of Parliament in Jerusalem on Monday.
STORY HIGHLIGHTS
TV and radio personality Glenn Beck speaks to a group in the Israeli parliament
Beck plans to hold three events in Israel in August
The events are to show support for Israel and oppose Palestinian moves for U.N. recognition
Jerusalem (CNN) — Outspoken American TV and radio personality Glenn Beck found a friendly audience Monday in the Israeli Parliament as he spoke to a group on how Israel can improve its international image.
The conservative pundit took aim at "the media" accusing it of distorting the Israeli-Palestinian conflict. "In America the media is so skewed on Israel — honestly, I thought you can only cook your food over a burning bus," Beck recollected humorously about what he expected before his first trip to Israel.
But he was serious when he said, "Here is the truth (about the) Israeli -Palestinian conflict — at the ruling class, (the conflict) is about the destruction of Israel and about the end of the Western way of life, period."
Beck spoke as a guest of the Knesset's Committee on Immigration, Absorption, and Diaspora Affairs. In addition to mostly right-wing Knesset members, the committee room was packed with guests who were strong Glenn Beck fans, applauding enthusiastically as he entered the room.
Sounding at times like an evangelist, Beck proclaimed, "The times that we live in — I am wildly clear … that God's hand is at work." Evil must be confronted, he urged, and "God will do the rest."
Several Knesset members expressed their ardent appreciation to Beck for his staunch and unequivocal support of Israel.
Beck plans to return to Israel in late August with supporters to hold three large events in what he calls the "Restore Hope" campaign, similar to his rally in Washington last August. The aim of the trip is to draw support for Israel and oppose plans by Palestinian leader to go to the United Nations in September seeking recognition for Palestine as an independent country.
One Knesset member from the centrist Atzmaut party who came to thank Beck was Einat Wilf. When asked about having the controversial talker at Israel's parliament, she responded, "These days we need all the help we can get."
"I don't think anyone can contest that Glenn Beck has the ability to reach tens of millions of people and to convince them, and as Israel finds itself in an intellectual battle for its own story, as Zionism continues to be under attack, we need to understand how to make sure that our truth is heard … and anyone who can help us with that is more than welcome," Wilf said.
"The Kingdom of God is within our reach."
"The Peace of Jerusalem is within our reach."
      Those of you who have visited my new website … Striving For Peace In The Holy Land … have noticed that I'm doing a mini-series on Glenn Beck.  I'll be adding to it.  My Allies on AOL and I agree that it would facilitate justice in the Holy Land

immeasurably

 if all of us were to focus on Glenn Beck for a while.  And give him some attention.  And listen carefully to what he has to say.  So that we can understand what he's teaching.  Beck has a "following".  You've all heard by now that he's enroute to Jerusalem.  He has the backing of a well-financed Christian Zionist organization called Christians United for Israel: 

www.cufi.org…

.  Beck will be in Jerusalem on 24 August, and he's sure to cause a sensation.
      From the perspective of my Allies and me, a good time for action is NOW.  Peers, our task
is to offer an intelligent

alternative

way of interpreting scripture to our fellow Christians.  A way with more depth and breath than the interpretation Beck, Pastor Hagee and others are teaching.  We have the intelligence to do it.  Don't we?  (Please don't doubt.)  We have the resources to do it, too.  Let's use the Internet, for Christ's sake.  Here's a sentence from the Episcopal Book of Common Prayer which will encourage us:  "God has blessed us with reason, memory and skill."
      For purely practical purposes, let's re-focus on Glenn Beck.  
CUFI's annual summit will commence on Monday July 18.  That's today:  Christians United for Israel – 2011 Washington Summit.  Beck will be the Keynote Speaker.  Let's watch the summit's videos as they appear on CUFI's website.  These folks will be showing their true colors.  Let's compare and contrast the teachings of CUFI with the teachings of the Churches for Middle East Peace, i.e., with the teachings of the mainstream, traditional Christian denominations who are working

together

to make the Peace of Jerusalem a fact on the ground.  The numerous denominations have a central resource:  

www.cmep.org…

.  Some of us may wish to connect directly with CMEP's Director.  Former Ambassador Warren is in a position to answer our questions and welcome our suggestions, simultaneously.  His e-mail address is:

 

warren@cmep.org…

.  What we need, Peers, is an education program that is intelligent enough

and

 interesting enough to reach all the way to our folks in the pews.  (My Allies on AOL and I have a few ideas about education.)  Here's a curious fact.  Our Church leaders have already taken a stand on the Holy Land issues … but … unfortunately … the folks in our pews seem not to have heard about it.  I don't believe that the problem is ignorance and/or apathy on anybody's part.  There's a disconnect in communications someplace.  Not to worry, Peers.  We can find ways to remedy the situation.  So let not our hearts be troubled.  When Christians work together as conscious, committed, caring 

Individuals

, we somehow learn what the Orthodox teach:  "Together, we are wise."  There's a postscript.
P.S.   Peers, I would wager that the average person who went to Church

today

 is unaware that Christians who live in the Holy Land are Palestinians.  And that Christians and Muslims suffer together under Israel's occupation.  I would bet the farm that only a minority of Christians in the USA are aware of that fact. Talk around.  Notice for yourselves.  Please prove me wrong.
Filed under israel and palestine articles by Father Dave on Jul 19th, 2011. Comment.