More news from Fighting Father Bob – an Australian making a difference in the West Bank.
If you've missed Bob's previous diary entries, they are here and here.
Hi,
Thought I might just share a few photos from Beit Ommar, the village south of Bethlehem where I am now staying.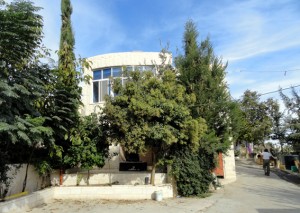 The first  (above) is the Abu Maria family house. We (the internationals) have the ground floor. Above us are the quarters for several generations of the family – including the patriarch, Abu Youssef, who, at 75, has a new(ish) wife and a three year old son, Hamza!
The house sits among orchards and vegetable gardens, right in the middle of the village.  Tractors chug past and share the road with flocks of sheep and goats being driven out to graze. At 4.30 a.m. the call to prayer is broadcast from the village mosque, at volume, and also for the four other obligatory prayers of the day.
We spend the mornings at the village's Popular Committee centre, writing up reports and hanging out. The second photo shows the view from one of the windows (complete with bullet hole, courtesy of the nice Israeli army).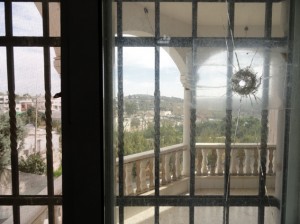 Cheers,
Bob
Father Roy writes: Bibi and Avigdor Liegerman have joined forces prior to Israel's next elections which probably will be held in February of 2013.  Bibi has promised Lieberman the portfolio of his choice.  Most of us know where Bibi stands on the issues: Israeli strike on Iran nuclear plants will only serve to calm Mideast.  Lieberman is known for taking strong stands himself:  Israel will never return the Golan Heights… JPost.  There is sometimes contention/competition between the two men.
Ehud Olmert willbe a contender if he can get his legal difficulties straightened out (charges of bribery, corruption, etc.)  Tzipi Livni says she's not going to play "second fiddle" to anybody.  It will be interesting to note which candidate Uri Avnery and the others at TOI … which is "The Other Israel" … led by www.gush-shalom.org… … will end up supporting.  It'll be fascinating to observe Israel's "vibrant" democracy in full operation between now and February: 'Apartheid state' claim sets off firestorm in Israel.   
Israelis always take great interest in America's Presidential elections.  Perhaps it's time for Americans to return the favor.  Bibi went so far as to campaign in Florida for one of our candidates.  Pasted below is an article featuring Yair Lapid who is regarded by some as a "rising star" in Israeli politics.  Lapid is reported to have a special appeal for women voters.  They think he looks like a "film star".  Please read on.
Peace,Roy
Lapid slams Left, Right over approaches to peace 
Yesh Atid party leader Yair Lapid, speaking from the Ariel University Center on Tuesday night, said his party "won't sit in a government that won't return" to the peace table, in his first major speech of election season on diplomacy and security issues.Lapid criticized the Right for only coming to the negotiating table with "a gun" and the Left for only coming with "an olive branch," saying there must be a balanced approach. He did not completely define what that meant
, but he did imply that Israel must be ready to make sacrifices.Lapid indicated that his primary goal was maintaining a Jewish majority, which could only be done by negotiating peace with the Palestinians based on the "two states for two peoples" vision, and not based on unilateral withdrawals or ignoring the Palestinians.
On the other hand, he did specify that he would not withdraw from any of the settlement blocs, from the Gush bloc to Ariel, the site of the speech.
Citing Ariel as a red line and delivering his speech from there was significant, as while it is a large settlement it is also one of the settlements situated most deeply into the West Bank – and media reports have indicated in the past that some Israeli leaders did not view Ariel as a red line.
Lapid also said he had two "iron rules." He would not recognize Palestinians' right of return for their refugees. He claimed that part of his basis was that international law does not allow people to pass on the right of return to land to their descendants.
On Jerusalem, Lapid said that he would not divide the capital and would maintain sovereignty.
The language he used on this issue went further than the ambiguous refusal to divide it, which some politicians use as a code for leaving open the possibility of a city split by sovereignty, but not by a fence or concrete border.
However, he did not explicitly negate sharing some part of Jerusalem with the Palestinians.
He did add that Jerusalem is the "heart" of the country and that "the return to Zion" was speaking of a "return to the Tower of David" in Jerusalem, and not to "the Azrieli Tower" in Tel Aviv.
Lapid's chief criticism of Prime Minister Binyamin Netanyahu on the peace process appeared to be that he had "wasted four years" by not going to the table with a serious "intent" to make an agreement.
He excoriated Netanyahu for using the "there is no peace partner" argument as a cover for not taking the process seriously.
Lapid quoted former prime minister Yitzhak Rabin who said that we may not like the Palestinians, but we are stuck with negotiating with them, and cannot try to "make peace with the Norwegians" and achieve peace.
He also spoke directly to the settlers, saying that he recognized them as having an important role as a "bridge between past and future," but, likely referring to protests against withdrawals, also said that they must accept government decisions "even if they disagree." On Iran, Lapid chastised Netanyahu for overemphasizing the military option. He said that while the option must "remain on the table," the focus must be on the goal of stopping Iran from making a nuclear weapon.
The Yesh Atid party leader implied that since Israel could only set Iran back, but not fully stop it, Israel must work harder than it has in the past to rally world support.

He added that "we must not do the world's work, we must convince the world that it needs to act on behalf of all of us." Some commentators have argued that only greater sanctions or a US strike can fully stop Iran's weapons program.
While Lapid did not formally endorse this view, it appeared to be the direction in which he was going.
Lapid said that while peace with the Palestinians was a "strategic" interest for Israel and "not merely tactical," another advantage to peace would be the world's increased willingness to listen to Israel on Iran.
Several hundred people and media packed the Raab Hall at Ariel, with protesters trying to disrupt Lapid's speech on both sides of the aisle. Right-wing protesters held signs saying "Lapid will throw me out of my house," while a group of Meretz Youth volunteers held a demonstration outside of the auditorium. They then entered and threw fake bills with Lapid's face on them on stage, implying he was a sell-out.
The Meretz spokesman did not know about the incident when asked, and said that the group of activists from Meretz Youth "carry out a lot of activities – both ones organized with us and ones that they organize on their own."
Leading up to the speech, Lapid has been unveiling the names of many leading members of his Knesset list, holding multiple press conferences each week.
Meanwhile, Ma'ariv journalist Ofer Shelach quit his job on Tuesday. Media reports indicated he would be joining forces with Lapid, which the Yesh Atid spokeswoman did not deny, but she also refused to confirm it for the time being.
The spokeswoman also confirmed that Shelach had a heavy influence on Lapid's policy speech in Ariel.
Father Roy writes: Armageddon is suddenly being waged on numerous fronts simultaneously.   And a badly-needed international debate has been precipitated locally, in the UK.  The post pasted below will explain.  Let those of us who have eyes… see.
Please study the website of the Rev'd Dr. Stephen Sizer.  Stephen has allies in the USA:  Challenging Christian Zionism and Apocalyptic Rapture Teachings.  Let's familiarize ourselves with the theological mindset of Christian Zionists:  Jesus Camp "Highlights" (10:38).  Let's make time for some serious Christian theological education, for  "Theology" is the "Study of God".
Jewish groups in the UK have targeted Stephen in a test case of sorts.  They claim that they can no longer afford to remain "quiet".  Well, we Christians can no longer afford to remain silent.  Christians who live in the Holy Land are Palestinians.  Christians and Muslims suffer together under Israel's occupation.  It will be interesting to observe what action Stephen's Bishop — the Rt. Rev'd Christopher Hill, the Bishop of Guildford — decides to take in this matter.  It will be interesting to follow subsequent developments in the Church of England, as well.   Please read on.
Peace, Roy+ 
pauleisen.blogspot.co.uk/2012/10/board-of-deputies-issue-disciplinary.htm…
WEDNESDAY, 31 OCTOBER 2012
Board of Deputies issue disciplinary complaint against Anglican Priest
In a move believed to be without precedent in modern times, the Board of Deputies has lodged a formal complaint against Revd Stephen Sizer under the Church of England's disciplinary process – an Act of Parliament known as the Clergy Discipline Measure 2003.
The complaint is based on statements made by Revd Sizer that the Board regards as antisemitic and a series of instances where Revd Sizer has posted internet links to articles on racist and antisemitic websites.
The complaint must first be considered by Bishop Christopher Hill, the Bishop of Guildford, as Revd Sizer's church in Virginia Water, Surrey, comes under his jurisdiction.
Board President Vivian Wineman said, "Making such a complaint about a Church of England minister is not a step the Board has taken lightly or without a great deal of consideration. This action sends a clear, strong message from our community that we will not remain quiet in the face of actions and remarks capable of being seen as antisemitic even where they are disguised as anti-Zionist attacks on Israel."
Submitting the complaint on behalf of the Board of Deputies, Vice President Jonathan Arkush said, "The evidence disclosed indicates that Rev Sizer spends time trawling dark and extreme corners of the internet. Revd Sizer re-publishes items to support the target of his polemical writing, while at the same time introducing his readers to the racist and antisemitic websites from where he draws his material."
Board of Deputies / John Arkish blog – Wednesday 31st October 2012
One Sizer doesn't fit all
by Jonathan Arkush
posted in Defence
Revd Stephen Sizer is the Vicar of Christ Church in Virginia Water, Surrey. He is now the subject of a complaint by the Board of Deputies to the Church of England, for making statements that the Board and most of the Jewish community find utterly offensive, to the point of crossing the line into antisemitism, even if this is neither his motivation nor intention. This is not all, as we also complain of Revd Sizer posting links from his website to articles on racist and antisemitic websites where scurrilous views against Jews and others are published. When this happens, the Jewish community has to act.
Under Church law the Board's complaint has to be brought under an Act of Parliament, the Clergy Discipline Measure 2003. The complaint is therefore for misconduct consisting of "conduct unbecoming or inappropriate to the office and work of a clerk in Holy Orders".
The complaint, which can be found here: includes detailed supporting evidence , an appendix of the offending material and a statement made earlier this year by the Bishop of Manchester > , the Chairman of the Council of Christians and Jews, in which Revd Sizer's delay in removing a link to an antisemitic website and the content he linked to was described as "disgraceful and unbecoming for a clergyman of the Church of England to promote".On the subject of Revd Sizer posting links to racist websites, the complaint says this:
The matters complained of disclose a clear and consistent pattern of activity on the part of Rev Sizer. The evidence indicates that he spends time trawling dark and extreme corners of the internet for material to add to his website. Rev Sizer re-publishes such items to support the target of his polemical writing, while at the same introducing his readers to the racist and antisemitic websites from where he draws his material. As the evidence demonstrates, there are five instances of this over the 11 month period from July 2011 to June 2012.
Thankfully for relations between British Jews and Christians, Revd Sizer is very much the exception.He displays an obsession with Israel and opposes its identity as a Jewish state. The Jewish people's belief in national self-determination, or Zionism, is shared with most of the world's nations – but Revd Sizer displays a deep hostility to Zionism, which he writes about as if it was a term of abuse. It is not difficult to come across his views, as he is an enthusiastic self-publicist who proclaims his preoccupation with Israel on his website, blog, Facebook and flickr pages.
Considering his position as a Church of England vicar, Revd Sizer keeps some strange company. He has shared a platform with and quoted from Holocaust deniers, goes on trips to Iran as the guest of the NEDA Institute which contributes to global efforts to deny the Holocaust and gave an interview with Qods News Agency, a Holocaust denying website. Sizer is also a speaker at the provocatively named Christ at the Checkpoint conference, which features a theology called supersessionism which has antisemitic overtones. It seems that Revd Sizer has few qualms about keeping company with anyone who shares his hostility to Israel, however dubious.
We need to be clear about what it is we complain of.
We make no complaint about Rev Sizer's anti-Israel views, nor of his trips to Iran or his supersessionist theology. While we view all of these with concern and distaste, Revd Sizer is entitled to his views and may travel where he wants. But we draw the line at making statements that we regard as antisemitic and advertising the content of racist and antisemitic websites. It is a matter of great regret that we are driven to make this complaint, but the Jewish community should not have to stomach material that we see as crossing the line into antisemitism.
To anyone who asks what it is that we seek from the complaint, my answer is simple. If it is upheld, it will be a matter for the Church of England what action to take to address Revd Sizer's conduct. But I can say that we are not seeking to have him stopped from his ministry or dismissed from his job. We only ask one thing, which is that effective measures are taken to prevent him from publishing or re-publishing material that we find to be not merely offensive, but antisemitic.
We don't think that's too much to ask.