ANONYMOUS weighs in on the side of Palestine!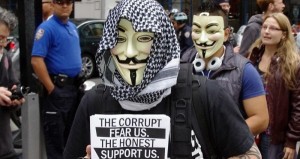 This is potentially one of the most significant developments to come out of this latest assault on Gaza – that international group of hacktivists known as 'Anonymous' have weighed into the conflict on the side of Palestine!
"For far too long Anonymous has stood by with the rest of the world and watched in despair the barbaric, brutal and despicable treatment of the Palestinian people in the so-called Occupied Territories by the Israel Defense Force. Like so many around the globe we have felt helpless in the face of such implacable evil, and today's insane attack and threatened invasion of Gaza was more of the same, but when the government of Israel threatened to sever all Internet and public communications into and out of Gaza, they crossed a line in the sand!"
This is not something that the state of Israel should take lightly. This year Time Magazine in American named Anonymous as one of the most influential groups of people in the world! While nuclear weapons and Apache helicopters can accomplish a lot in terms of keeping regular hostiles at bay, they can accomplish nothing against cyber-combatants! Anonymous has an amazing record of both tracking down Internet pedophiles and executing denial of service attacks against major government and corporate websites!  Apparently the attacks on Israeli government websites have already begun!
Can't see the video? Try this link.
'Anonymous' asks that a series of URL's be distributed with the above broadcast that will help people stay staying connected to the Internet even when governments try to close off their communications: