Bob Birch reports on settler violence in the West Bank
This report has just come in from Fighting Father Bob Birch, currently stationed in the West Bank. Along with a number of international activists, he is there to support Palestinian farmers from further settler attacks. The settlers don't like the light of international attention being shined on their activities.
Stay tuned for more updates from Fighting Father Bob
Father Dave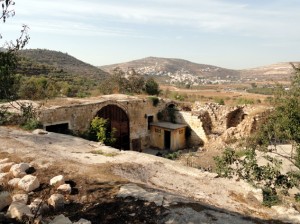 I have spent the last day and night at an ancient khan (caravanserai) owned by a Palestinian farmer, Khaled, set in his 320 dunums of gardens and olive groves. The place is a ruin but a few "internationals" sleep there at night to discourage settlers from attacking the family and destroying what little is left.
The settlers have beaten his wife and children, killed his dogs,  burnt his trees, painted disgusting graffiti on the walls and destroyed his few possessions but he will not leave. He has been offered 5 million dollars and an American passport to leave but he will not. The settlers want his land because it has its own spring, and so an assured and abundant water supply.
The house is beautiful, or it must once have been. Architecturally stunning. It is almost in ruins but a European NGO organised for a set of strong iron doors and windows to be installed throughout yesterday. Now it should be safe from attack but the three of us from ISM spent a nervous night there last night.
Khalid and his family now live in the nearby village of Libban. The khan has no bathroom (there's a whole orchard for that) and no kitchen (we cook over a campfire)  but its a great experience to be out there. We do have electricity – when the settlers don't cut the line. Gypsy comforts.
Came back to Nablus this morning to have a shower,wash our clothes and stock up on provisions, and are heading back there shortly. Will send an update in a couple of days.
Best wishes, Bob.