Non-violent resistance in Palestine
It is one of the tragedies of the Occupation that Palestinian resistance has always been portrayed as being the work of terrorists. The truth is that most acts of Palestinian resistance have been non-violent. Even the first and second Intifada started as non-violent protests until they were met with great violence from the occupying power.
The following article is from Jeff Cohen compares the Palestinian struggle to the American Civil Rights struggle of the 60's, and the parallels are significant. The article was published on the Tikkun Daily – one of the sites associated with progressive Rabbi, Michael Lerner.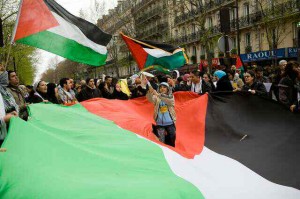 source: www.tikkun.org…
Non-Violent Palestinian Resistance: Echoes of the U.S. Civil Rights Movement
by Jeff Cohen
As I prepared for a grueling fact-finding trip to Israel and the Palestinian West Bank (occupied for 46 years), Secretary of State John Kerry announced that Israel and the Palestinian Authority had agreed to resume peace talks without preconditions.
On the day my delegationflew to the region, Israel announced that it had approved still more housing for Israeli settlers: "Israel has issued tenders for the construction of nearly 1,200 housing units in occupied East Jerusalem and the West Bank," reported London'sFinancial Times, "defying U.S. and Palestinian opposition to expansion of Jewish settlements three days before the scheduled start of peace talks."
It's the same old depressing story, with Israel showing little interest in making peace.
So before I turn to what's surprising and inspiring in the West Bank, let's acknowledge the bad news: Palestinians are slowly being squeezed out of their homes, deprived of their water and centuries-old olive groves, humiliated on a daily basis by Israeli settlers and the Israeli state in a relentless violation of their human rights that gets worse as much of the world looks away.
But here's the good news: Across the West Bank, Israel's occupation has given rise in recent years to a nonviolent "popular resistance" movement that should be an inspiration to people across the globe. This unarmed resistance has persisted in the face of Israeli state violence (aided by U.S.-supplied weapons and tear gas), lengthy jail sentences for nonviolent protesters and widespread detention and abuse of children.
It was fitting to return to the U.S. on the 50th anniversary of the March on Washington because Martin Luther King Jr. and his legacy of militant nonviolence were invoked by Palestinian activists in virtually every village and town I visited as part of the fact-finding delegation.
Like King, leaders of the Palestinian popular resistance – from intellectuals to grassroots villagers who'd been repeatedly jailed – spoke to us about universal human rights, about a human family in which all deserve equal rights regardless of religion or nationality. "We are against the occupation, not against the Jews," was the refrain among Palestinian activists. "We have many Jews and Israelis who support us."
It was indeed inspiring to meet several of the brave Israelis who've supported the nonviolent resistance, often putting themselves in the frontline of marches (their jail sentences are tiny compared to what's dished out to Palestinians). They are admittedly a small minority, thoroughly ostracized within Israel – a society that seems as paranoid and militaristic today as our country during the McCarthyite Fifties.
NABI SALEH: In this village near Ramallah that's being squeezed by settlers, a leader of the local popular resistance waxed poetic about Israelis who've supported their struggle: "After we started the popular resistance in 2009, we saw a different kind of Israeli, our partner. We see them as our cousin – a different view than the Israeli as soldier shooting at us, or the settler stealing, or the jailer shutting the cell on us." The story of Nabi Saleh was compellingly told in an atypical New York Times Magazine article by Ben Ehrenreich, "Is This Where the Third Intifada Will Start?"
"It's not easy to be nonviolent, but no soldier has been killed by a stone," said activist leader Manal Tamimi. "We want to show the world we are not terrorists. On CNN, Fox News, we're just terrorists, suicide bombers. I was in the states; you never hear of settlers attacking Palestinians."
As we were leaving her house, Manal added: "You need to be our messengers because your tax money is killing us. You are our brothers in humanity, but you are part of the killing."
Like our 1964 civil rights martyrs in Mississippi – Schwerner, Cheney and Goodman – Nabi Saleh reveres its martyrs:Mustafa Tamimi and Rushdi Tamimi.
BIL'IN: If you saw the Oscar-nominated documentary "5 Broken Cameras," then you know of the seven-year-long, partly-successful battle by the villagers of Bil'in to drive back Israel's "separation wall" (aka the Apartheid Wall) – which was positioned to confiscate nearly 60 percent of their land, separating farmers from their fields and olive trees. It's aninspiring story of courageous nonviolence, with international activists (and Israelis) flocking to Bil'in to support the villagers' resistance.
"Internationals" who live in the West Bank and put their bodies on the line in support of nonviolent Palestinian struggles remind me of the U.S. students and others who "headed south" in the 1960s to support the civil rights movement.
We stayed overnight in the homes of Bil'in residents. Iyad Burnat, the brother of "5 Broken Cameras" director Emad Burnat, talked with us past midnight about the importance of media coverage, international support, and creative, surprise tactics in a successful nonviolent movement (like using their bodies to close an Israeli "settlers-only" road). "In Bil'in we don't use stones. The Israeli soldiers use that – kids throwing stones – to attack our people."
Iyad was one of a dozen Palestinians we met who bristled at their lack of mobility now that their communities are ringed by the wall, settlements, checkpoints and Israeli-only highways. "It's easier for me to get to the U.S. or the U.K. than to Jerusalem, 25 kilometers away."
Like our Selma martyrs – Jimmy Lee Jackson, Rev. James Reeb and Viola Liuzzo – Bil'in has its nonviolent martyrs:Bassem Ibrahim Abu Rahmah and Jawaher Abu Rahmah.
read the rest of this article here
Filed under israel and palestine conflict by Father Dave on Sep 5th, 2013.