The People in Bethlehem need our help
Note: Please scroll down to my highlight in Alison's mailing. Peace, Roy
Dear Friends,
We're writing to remind you about our campaign to distribute "Bethlehem Cards" — informational cards designed for people to spread awareness about Bethlehem and Palestine during a season dedicated to "peace on earth and good will towards men."
We know many of you give out these cards at cafes and farmers' markets, shopping malls and carol sings, to Nutcracker crowds and church attendees, in Christmas cards and on windshields…
If you haven't gotten your cards yet, you can use the files we've created to make your own (download front | download back), or place your order online or by email (instructions below).
We ask a donation to cover the printing costs — $3 per 50 cards, minimum order, plus postage, which starts at $4.75 (the USPS charges by weight). If you can't afford this donation, we'll still do our best to help you out in getting this information to your community.
Please note these informational cards don't have room for a personal message and can't be mailed on their own, though we encourage enclosing them with other cards.
Front of the card: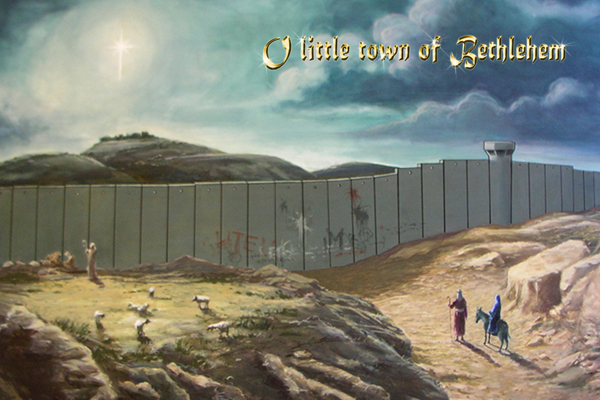 (4×6-inch double-sided postcard-sized card — does
not
fold)
Text on Back:
The people of Bethlehem are asking for our help.
Towering walls and militarized fences now encircle Bethlehem, turning the 4,000-year-old city into a virtual prison for its Palestinian Christian and Muslim citizens. Bethlehem has only three gates to the outside world, all tightly controlled by Israeli occupation forces.
Israel has confiscated almost all the agricultural land in the area for illegal settlements, making it impossible for many Palestinian farmers to continue tending their land. Outside the town, the fields where shepherds once watched their flocks are being filled by Israeli housing blocs and roads barred to the descendants of those shepherds.
"It is unconscionable that Bethlehem should be allowed to die slowly from strangulation," says South African Archbishop Desmond Tutu. Bethlehem's residents increasingly are fleeing Israel's confining walls, and soon the city, home to the oldest Christian community in the world, will have little left of its Christian history but the cold stones of empty churches.
Though most Americans don't know it, we are directly involved in Israel's strangulation of Bethlehem. Fortune Magazine and other analysts consistently rank the Israel lobby as one of the most effective special interests in Washington; Americans give Israel about $7 million per day. In its just over 60 years of existence, Israel has received more US tax money than any other nation.
As we seek peace and joy for the world, it is time to reconsider an expenditure that perpetuates injustice, tragic violence, and conflict. Please help.
For more information: IfAmericansKnew.org…
To order:
Order Online Now
Or email your order to orders@ifamericansknew.org…. Tell us your mailing address and the quantity you wish to receive. You can then mail a check, money order or donate online.
*A note on the suggested donation: We offer our published materials free, as supplies allow, though we request donations whenever possible to cover the printing and shipping costs. The "suggested donations" listed are designed to cover only the cost of printing the materials. We incur many other costs in creating, updating, and packaging them, and gladly accept donations towards those expenses from those who can afford it.
**A note on shipping: We generally ship materials using U.S. Post Office Priority Mail envelopes and boxes. These offer a flat rate rather than charging for the weight of the materials included and we have found them to be generally more economical than other methods (remember, printed materials are very heavy, and the Post Office usually charges by weight). They have the added advantage of arriving in two to three days and being very quick and easy for us to send. Current rates (subject to change by the Post Office) are: $4.75 for a large envelope, $10.50 for a medium box and $14.20 for a large box.
Thank you, Merry Christmas and Happy Holidays!


Alison Weir, Executive Director
If Americans Knew
3020 El Cerrito Plaza #157
El Cerrito, CA 94530
(202) 631-4060
Winter Campaign
Join us in spreading Palestine awareness this winter!
Distribute Bethlehem Cards
Give
Holiday Gifts of Conscience
Quick Links
Tips on Handing Out Materials Effectively
Educational Materials
Act for Justice
Our Mission
IF AMERICANS KNEW
STATISTICS | HISTORY | CURRENT SITUATION | US INTERESTS | MEDIA ANALYSIS | ABOUT US
Donate | Contact Us | Email List | Educational Materials | What's New?
Filed under israel and palestine articles by Father Dave on Dec 2nd, 2011.