Father Roy writes: Watch this video featuring a Jewish settler who was born in the USA:  A BBC interview with Israeli settler (08:05).  We meet a number of religious Jews when we watch this video:  How Christians are treated in Israel (02:07).  The article pasted below was first published in the Huffington Post and is self-explanatory. Peace, Roy
As the Illegal Outpost of Migron Goes, So Goes All of Israel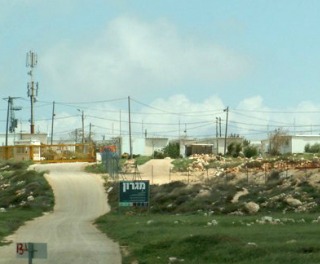 The fate of Migron, an illegal outpost in the heart of the West Bank, is about to be decided. The implications of this decision are about far more than the future of a handful of settlers in a single outpost. This decision will be a litmus test of Israeli rule of law and, ultimately, of Israel's capacity to make peace with the Palestinians.
How can one outpost be so important?
Outposts are settlements that have been built in the West Bank without Israeli government authorization, in violation of Israeli law. Migron is the flagship of the settlers' illegal outpost enterprise — one of the largest and most developed outposts and the shining symbol of the settlers' determination to overcome the Israeli government's longstanding policy against establishing new settlements.
Migron is an open-and-shut case of theft, the physical embodiment of the settlers' contempt for Israeli law. Migron is built entirely on land that Israel recognizes as privately-owned by Palestinians. Its establishment and expansion over the past decade epitomizes the corruption that is endemic in Israel's rule in the West Bank, since neither could have taken place without Israeli government officials aiding and abetting settlers' law-breaking.
And the persistence of Migron's existence — despite its blatant illegality and despite repeated Israeli government promises to dismantle it imminently — discloses the settlers' and the Israeli government's flagrant disregard for Israeli law and the Israeli Supreme Court.
Last August, after more than 5 years of Israeli government foot-dragging in various legal proceedings, that Court finally laid down a deadline for dismantling Migron: March 31, 2012. With that date fast approaching, the Netanyahu government and the Knesset are now scrambling to find a way circumvent Israeli law and the Court's decision. They are trying to find a "compromise" to appease settler law-breakers (not the first such effort), or to come up with a way to twist Israeli law to kosher the settlers' criminal acts. This response to the Court points to an increasingly alarming problem in Israel: sacrificing rule of law to further a far right-wing, anti-democratic ideology. It highlights a longstanding reality that few have wanted to admit: the Israeli political system has to a great degree been hijacked by the settlers and their supporters, in the service of an agenda that openly seeks to keep all or most of the West Bank in Israeli hands in perpetuity, at the cost of any chance for Israeli-Palestinian peace.
Any future Israeli-Palestinian peace agreement will require the establishment of a viable, contiguous state of Palestine alongside Israel. Land swaps may allow most Israeli settlers to remain in their homes, but even the best agreement (from an Israeli perspective) will necessitate the evacuation of settlements located deep inside the West Bank. Migron is located deep inside the West Bank, in an area that cannot possibly remain under Israeli sovereignty in any future agreement.
If the government refuses to remove Migron, even with law and the rulings of the court requiring it to do so, it will send an unmistakable message: Israel today prefers settlements to peace. If Netanyahu claims he can't remove Migron, because taking on the settlers will bring down his government, it will send another message: Israel is today so deeply in thrall to the settlers that it is incapable of making peace, even if it wanted to.
Finally, should the Israeli government find a way to "kosher" the settlers' land theft in Migron, it will give a green light for the settlers to build illegally everywhere in the West Bank, knowing that no one, not even the Supreme Court, can or will stop them. In such a case, even if a future Israeli government is more serious about peace than the current one, settler actions on the ground will undoubtedly seek to block any agreement.
The case of Migron is thus not simply about the fate of one outpost. It is a test whose results will reveal whether Israel can continue to uphold even the pretense of being a nation of laws, in which the rule of law reigns supreme, or if it will instead openly embrace "rule by law" — an ugly characteristic of a totalitarian state. Likewise, the fate of Migron will disclose whether settler influence has so deeply penetrated Israeli policy and governance that Israel is no longer capable of upholding even the pretense of a commitment to the two-state solution for the Israeli-Palestinian conflict.
(By Lara Friedman, originally published on the Huffington Post, February 14, 2012)
As the Illegal Outpost of Migron Goes, So Goes All of Israel (Huffington Post) – Americans for Peace Now
Father Dave writes: Always full of insight, Chomsky cuts through the propaganda machine to get to the real agenda behind US foreign policy.  Why is Iran now seen as the greatest threat to world peace? The country has no history of initiating aggressive acts outside of its borders and has given no indication that it wants to do so in the future!
Noam Chomsky on the Iranian "Threat" and the Nuclear Issue
Let us turn finally to the third of the leading issues addressed in the establishment journals cited earlier, the "threat of Iran." Among elites and the political class this is generally taken to be the primary threat to world order — though not among populations. In Europe, polls show that Israel is regarded as the leading threat to peace. In the MENA countries, that status is shared with the U.S., to the extent that in Egypt, on the eve of the Tahrir Square uprising, 80% felt that the region would be more secure if Iran had nuclear weapons. The same polls found that only 10% regard Iran as a threat — unlike the ruling dictators, who have their own concerns.
In the United States, before the massive propaganda campaigns of the past few years, a majority of the population agreed with most of the world that, as a signatory of the Non-Proliferation Treaty, Iran has a right to carry out uranium enrichment. And even today, a large majority favors peaceful means for dealing with Iran. There is even strong opposition to military engagement if Iran and Israel are at war. Only a quarter regard Iran as an important concern for the U.S. altogether. But it is not unusual for there to be a gap, often a chasm, dividing public opinion and policy.
Why exactly is Iran regarded as such a colossal threat? The question is rarely discussed, but it is not hard to find a serious answer — though not, as usual, in the fevered pronouncements. The most authoritative answer is provided by the Pentagon and the intelligence services in their regular reports to Congress on global security. They report that Iran does not pose a military threat. Its military spending is very low even by the standards of the region, minuscule of course in comparison with the U.S.
Iran has little capacity to deploy force. Its strategic doctrines are defensive, designed to deter invasion long enough for diplomacy to set it. If Iran is developing nuclear weapons capability, they report, that would be part of its deterrence strategy. No serious analyst believes that the ruling clerics are eager to see their country and possessions vaporized, the immediate consequence of their coming even close to initiating a nuclear war. And it is hardly necessary to spell out the reasons why any Iranian leadership would be concerned with deterrence, under existing circumstances.
The regime is doubtless a serious threat to much of its own population — and regrettably, is hardly unique on that score. But the primary threat to the U.S. and Israel is that Iran might deter their free exercise of violence. A further threat is that the Iranians clearly seek to extend their influence to neighboring Iraq and Afghanistan, and beyond as well. Those "illegitimate" acts are called "destabilizing" (or worse). In contrast, forceful imposition of U.S. influence halfway around the world contributes to "stability" and order, in accord with traditional doctrine about who owns the world.
It makes very good sense to try to prevent Iran from joining the nuclear weapons states, including the three that have refused to sign the Non-Proliferation Treaty — Israel, India, and Pakistan, all of which have been assisted in developing nuclear weapons by the U.S., and are still being assisted by them. It is not impossible to approach that goal by peaceful diplomatic means. One approach, which enjoys overwhelming international support, is to undertake meaningful steps towards establishing a nuclear weapons-free zone in the Middle East, including Iran and Israel (and applying as well to U.S. forces deployed there), better still extending to South Asia.
Support for such efforts is so strong that the Obama administration has been compelled to formally agree, but with reservations: crucially, that Israel's nuclear program must not be placed under the auspices of the International Atomic Energy Association, and that no state (meaning the U.S.) should be required to release information about "Israeli nuclear facilities and activities, including information pertaining to previous nuclear transfers to Israel." Obama also accepts Israel's position that any such proposal must be conditional on a comprehensive peace settlement, which the U.S. and Israel can continue to delay indefinitely. 
Filed under Israel and Palestine, israel and palestine conflict by Father Dave on Feb 19th, 2012. Comment.