Palestinians die. Who cares?
The latest round of violence in Israel/Palestine is sickening. The Australian media coverage of that violence is also sickening.
The news reader reports "seven Israeli's have now been stabbed by Palestinians"! She then adds (almost as a parenthesis) that "forty Palestinians have also been killed, including several of the attackers".
Why are the facts always presented this way, as if Israeli lives matter more than Palestinian lives? Given that there were more than five times as many Palestinians than Israelis killed, why aren't we told first that 40 Palestinians have been killed – the vast majority of whom were apparently not involved in attacking anyone when they were killed.
I appreciate that this is a very small point made with reference to a very small news segment, and yet this was the ABC – Australia's government-owned national broadcaster!
I have a friend who works for the same broadcaster and she told me last year that ABC presenters were no longer allowed to use the word "Occupied Territories" when referring to the Palestinian West Bank. They now have to say "disputed territories".
This may again seem like a very small point, and yet this is our government trying to control what we say in order to control what we think, and we simply should not have to tolerate this form of politically-inspired thought control!
The death of Israa Abed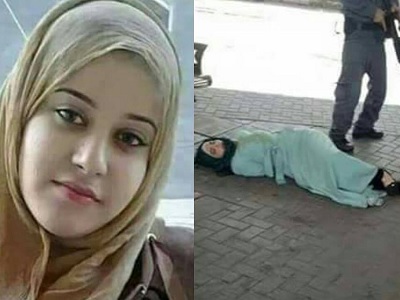 For me nothing sums up the current spate of violence more succinctly than this leaked video of the death of Israa Abed. Be warned that even though you don't see any of the gory details of her death it is nonetheless gut-wrenchingly difficult to watch.
According to the Times of Israel, Israa Abed was a would-be assassin. According to the Jerusalem Post, she was a 'female terrorist'. According to both reports she was brandishing a knife and told to put it on the ground before being shot by IDF soldiers.
No knife can be seen in this video. What we see is a girl with her hands in the air. Certainly, even if she'd been carrying a large machete, she would have posed no threat at all to the ten heavily armed soldiers who surrounded her.
Other reports say she was refusing to take off her hijab when she was shot. Her father and her brother (both of whom were arrested after the shooting of Israa) said that she suffered from mental illness. Perhaps that explains why she didn't remove her clothing when ordered to do so, or perhaps she was just scared?
Israa was 28 and the mother of two children. I'm guessing that she was one of the 'several attackers' mentioned in the news report who were amongst the 40 killed. I wonder what the others did that warranted their execution.
Father Dave
Filed under israel and palestine articles, israel and palestine conflict by Father Dave on Oct 20th, 2015.