More news from Fighting Father Bob – an Australian making a difference in the West Bank.
If you've missed Bob's previous diary entries, they are here and here.
Hi,
Thought I might just share a few photos from Beit Ommar, the village south of Bethlehem where I am now staying.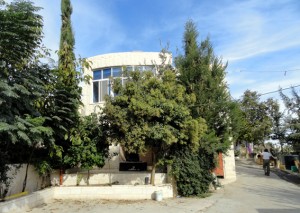 The first  (above) is the Abu Maria family house. We (the internationals) have the ground floor. Above us are the quarters for several generations of the family – including the patriarch, Abu Youssef, who, at 75, has a new(ish) wife and a three year old son, Hamza!
The house sits among orchards and vegetable gardens, right in the middle of the village.  Tractors chug past and share the road with flocks of sheep and goats being driven out to graze. At 4.30 a.m. the call to prayer is broadcast from the village mosque, at volume, and also for the four other obligatory prayers of the day.
We spend the mornings at the village's Popular Committee centre, writing up reports and hanging out. The second photo shows the view from one of the windows (complete with bullet hole, courtesy of the nice Israeli army).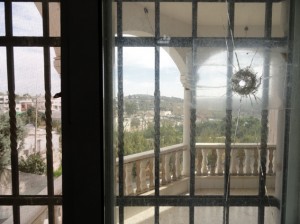 Cheers,
Bob