Zionist Organization objects to Jimmy Carter speaking at the Democratic Convention
This report is simply tragic. Labelling Jimmy Carter – one of the greatest men of our time – as an enemy of human rights is a reductio ad absurdum so far as I'm concerned! In other words, it is so obviously false that it discredits the speaker completely!
The great shame is that Carter is one of the few Americans who could still exercise a positive influence in the Middle East. He has been at the heart of Israel/Palestine dialogues for many years and has a history (though, admittedly, an ambiguous one) with Iran and other neighbouring countries as well. He is also, I believe, a man with a genuine love for both Jews and Arabs and all the peoples involved.
Father Dave
P.S. The highlight is courtesy of Father Roy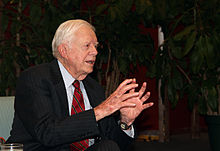 source: ZOA: Rescind Convention Invitation to Carter
ZOA to Democrats: Rescind Convention Invitation to Carter
Zionist Organization of America calls on the Democratic National Committee to rescind its invitation to former President Carter.
By Rachel Hirshfeld
First Publish: 8/19/2012, 5:16 PM
The Zionist Organization of America (ZOA) has called upon the Democratic National Committee to rescind its invitation to former President Jimmy Carter to address the upcoming 2012 Democratic National Convention in Charlotte, North Carolina.
The ZOA pointed to Carter's "decades-long hostility towards, and defaming of, Israel" as well as his "advocacy of negotiations with Hamas" as evidence of the "inappropriateness of the invitation."
The Republican Jewish Coalition and the National Jewish Democratic Council have both opposed Carter's scheduled appearance. Yet, the Democratic National Convention continues to champion Carter "one of the greatest humanitarian leaders of our time and a champion of democracy around the globe."
"The invitation to President Carter to address the Democratic National Convention is an insult to American Jews, Christian Zionists and all Americans who care — as polls show them to do in large numbers — for Israel," said ZOA National Chairman of the Board Dr. Michael Goldblatt.
President Carter's 2007 book titled Peace Not Apartheid, contains "numerous falsehoods about Israel, not least the vicious insinuation in its title that Israel resembles the evils of the apartheid regime in South Africa."
In the book, "Carter falsely claimed that, not Arab non-acceptance of Israel as a Jewish state, but Jews living in Judea and Samaria, is the 'primary' obstacle to peace. He has thus endorsed the Palestinian agenda of setting up a Jew-free state."
The ZOA continued to cite the many falsehoods and libels against Israel that Carter has spread over the years, including his claim that, "Israel destroyed 40,000 homes; destroyed hospitals; rendered several hundred thousand Palestinians homeless; that Gaza was surrounded by an impenetrable wall; and that the Goldstone Report had investigated the deaths of 1,387 Palestinians in that conflict."
"In fact, not a single one of these claims was correct; they were all lies against the Jewish state of Israel," Goldblatt asserted.
"Far from being a champion of human rights, Jimmy Carter has harmed the cause of human rights, especially in regard to the continuing Arab war on Israel. The Democratic National Convention Committee and Obama for America should do the right thing and rescind their invitation to Jimmy Carter."